Silicone Coolant Hose (also known as Blue, Green, or Glossy Blue Silicone Coolant Stix or Stick Hose) is used for the high demands of the engine compartment of automobiles & large diesel trucks to off road heavy equipment and power generators!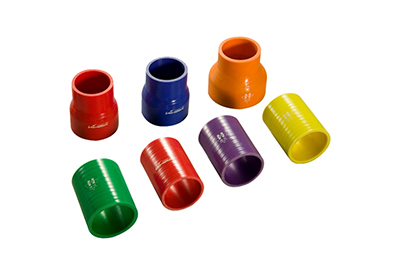 3-Ply & 4-Ply Silicone Coolant hose in 3/8″ to 6″ meets or exceeds the operating requirements of SAE J20 R1 & operating requirements of TMC RP303B Class I Grade II. -65°F (-54°C) to +350°F (+177°C)
Silicone is resistant to hardening, cracking, ozone attack, sunlight, moisture, steam, dust, aging, various pressure ranges, and to many chemicals too. Additional advantages of Silicone are it is easier to install and run than ridged pipe, is not subject to corrosion, stress, or cracking, and it absorbs engine movement and vibration.
Features and Benefits of Silicone Hose:
-Resistant to a wide range of temperatures
-Resistant to hardening, cracking, ozone attack, sunlight
-Resistant to moisture, steam, dust, aging, various pressure ranges
-Resistant to many chemicals
-Retains flexibility in hostile engine environments
-Excellent electrical insulating properties
-Longer life than EPDM (Black Rubber)