Jun, 2018 12
"Ship Launching relying on Airbags ",Linhai Shipbuilding new technology
Date: 2009-12-16   China Taizhou TV station  http://www.taizhou.com.cn
Mingzhou 67, before launching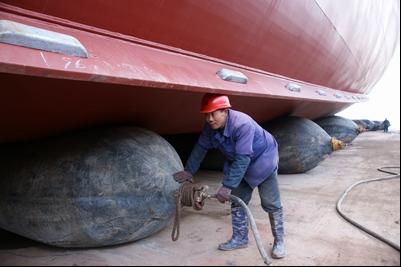 Before launching, workers are charging air to airbags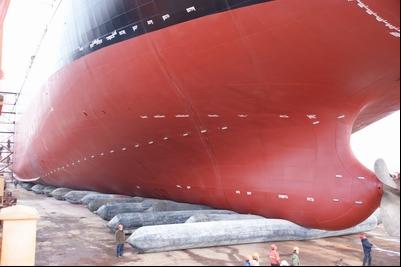 Charged airbags, airbags afford all ship weight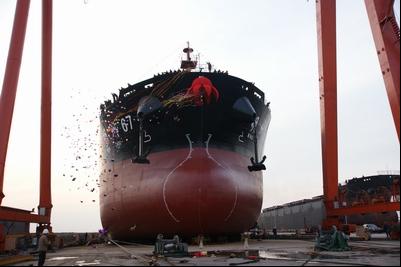 Huge ship declare to start lauching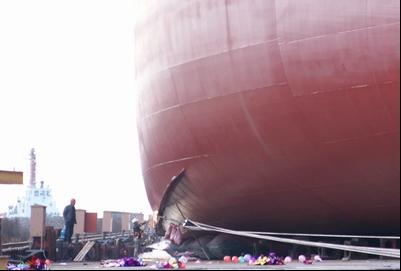 Electric welding workers are cutting ropes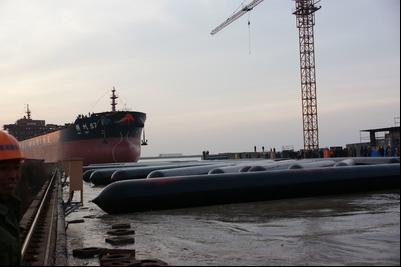 The huge ship rolls on airbags on slipway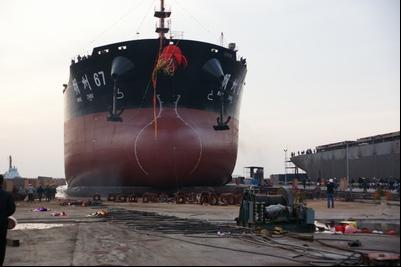 Airbags leave the ship, float on water, launching success
Message from China Taizhou TV Station: Today , a 50000DWT Ocean-going bulk cargo loading ship built by Jiangsu Hong-Ming Shipyard Co., Ltd, was launched successfully, using airbags produced by Linhai haihua Rubber & Plastic Co., Ltd.. This success broke the current saying which people think airbags can not launching large-tonnage ships. Also it is the biggest ship which Linhai haihua use airbag for launching, Creating a ship building industry miracle!
Linhai haihua Rubber & Plastic Co., Ltd. Is a professional factory making marine airbags, has more than 20years rubber product making experience. Two years ago, the factory cooperate with Qinghua University, Zhejiang University and Zhejiang Industry University, and Hangzhou haihua Im., & Ex., Co., Ltd. , successfully researched and developed the rubber marine airbag, a new technology for ship launching or landing. The airbag length 18m, ID1.5M, 130KPA/cm2 after charged, can load 25ton/m, this new technology has many advantage like saving time, easy carrying, saving money, safe etc. The material is tested in China North Industries Group Corperations non-metallic material Physical testing Center. Production based on CB/T3795-1996 Standard. By now , Linhai haihua Rubber & Plastic Co., Ltd. Has successfully launched more than 10 ships in Taizhou, the biggest ship is 26000Ton.
In order to ensure the boat MINGZHOU NO.67 launching, Linhai Haihua rubber & plastic company sent technical personnel, in conjunction with the factory technical personnel on the ship's weight, the water level, the data of ship's drop stress, arrangement of airbags, air pressure, rolling speed control and anti-collision for well-organized. At 4:00 pm, the support under the boat are all take off, and 52 inflated airbags are completed,179.98 meters long and 30 meters wide, 11.3 meters draft design of the vessel are Ready. With the order, the two cables in the front of the vessel are cut off, and the vessel slowly slide into the river by the airbags. The vessel successfully launch only 5 minutes .Meantime, the airbags leave the ship and float to the surface;All the audience marveled.
Original website: http://www.taizhou.com.cn/a/20091216/content_137966.html
News
Address:

Hangzhou Haihua I & E Co. LTD
2nd Floor, B Building, Jinrun Technology Park,
399 Qiuyi Road,Binjiang District,
Hangzhou,310052, China

Tel: +86-571-85463038

Chinese Phone:+86-139-5717-0353

US Phone:+1-626-493-9520


Fax: +86-571-85464084

E-mail: sales@hiwowsport.com

Connect : Andy Ying

Whatsapp: 008613957170353

kuaishou:hiwowsport2005




Tik Tok(Chinese version):dy9zc1x1bwtp

Xiaohongshu:racingcarparts

kuaishou:hiwowsport2005